weird red faced duck in Mitla, Mexico – foto by smith
Woke Saturday night at 2 a.m. – the first night of the three days of the Day of the Dead – to trumpets blaring flutes fluting drums drumming. Opened the window and looked down into the street where a band was playing loudly while people danced and laughed and sang. Watched a figure in tall red satin robes flow from the dark side street to join the dance. They played and danced fifteen minutes, then went away. As I drifted back to sleep, I heard them take up again several blocks away. I love this place.
We were told by our Mixtec friend that the first night of the Day of the Dead altar, dead children can come and feast. The second day, dead relatives come, and the third day, any and all dead can feast. I say feast because the altars contain water, mezcal, fruit, candy, peanuts, golden marigolds, deep heart red coxcombs, candles, bread, fotos of the dead and religious, sugar skulls, etc.
Yesterday we rode out to Mitla to visit some Zapotec. The two brothers weren't there, so we spent the day with the wife, one pre-teen and three teenage girls. There was a lot of laughter and goofing around – much more fun than if the men had been there because this is a patriarchal society. . . had there been men, the women would have been banished to another room and would only be seen when they served. With the men, there would have been much drinking of mezcal and smoking of marijuana, but with the women there was sharing and laughter instead. The youngest girl tried to teach me to dance but kept falling down with hysterical laughter when I tried.
The day left a smile on my face. Can't ask for more.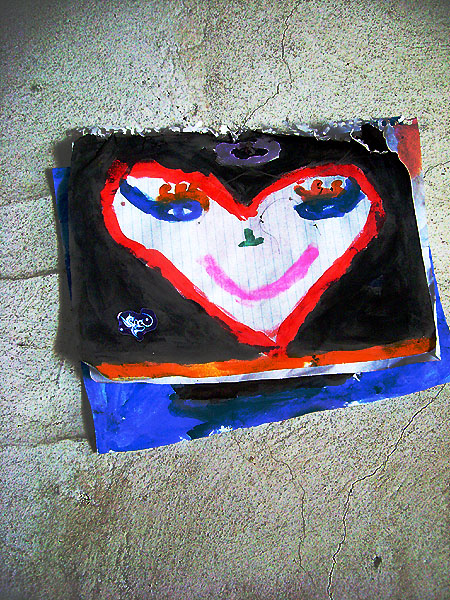 one of the Zapotec children's art – foto by smith