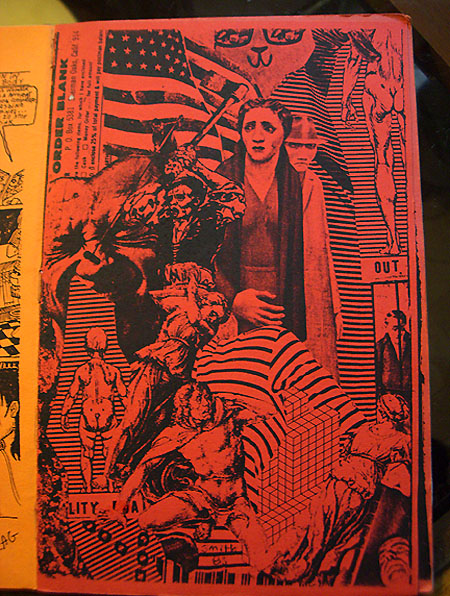 Smith collage from 1980s
Clevebland Rag-o-zeen
– foto by Smith
Found some more of my old collages in Dick Head's Clevebland Rag-o-zeens from 1985-86. I'd make the collages out of colored scraps, Dick Head would Xerox them in black & white, then print them on multi-colored paper.
Here are four of them – have another nine for later blogs.
I'd churn these things out in half an hour upon request back then for free. Now I'd want money, unless I got the collages back. I told Dick Head each time I wanted the collages back, but he always traded them to a gay lawyer for a 6-pack of beer – the same lawyer I bought my coke from (he's since died of AIDS and is way beyond prosecution). For some reason I kept making these for Dick Head every issue he asked knowing full well he'd give them away even though I always insisted I had to have them back. Wonder where they all are now.
My 30 year Cleveland past is sneaking out and crawling all over the carpet.
Smith collage from 1980s
Clevebland Rag-o-zeen
– foto by Smith
Smith collage from 1980s
Clevebland Rag-o-zeen
– foto by Smith
Smith collage from 1980s
Clevebland Rag-o-zeen
– foto by Smith