gibbous moon – foto by Smith
Friday and Saturday nights, our art community of Tremont turns into Restaurant City and the parking places disappear as the rich suburbanites flock to our expensive trendy eateries and leave their SUVs with the valets to stable, groom and feed. It makes me realize I must not be in a movie because in movies, there's always an open parking space wherever The Star needs to be, and here I have to drive up and down around and around looking for one well-fed empty space to place our car. Or maybe I am in a film but I'm just not the star–perhaps I'm more sidekick or comic relief, or Lady is The Star and I am merely her unparkable consort.
In film there's a continuous gibbous moon because there's always a full moon hanging in the sky no matter how many film days pass. It must wreck havoc with Earth tides because there'd be this tsunami wave of high tide water following the full moon around the world. And fool moon crazies would be ramping and raging through demolished city streets in full moon madness constantly as the world was washed in vast floods of menstrual blood because monthly women would bleed all the time since it was always That Time Of The Month.
Another difference between reel and real life is no matter how many horses in the streets or how many cattle stampede through town, there's never any horseshit or cow patties around on the ground. This is probably because all the shit is stored in Washington D.C. in the politicians mouths.
In older movies, there's seldom any blood when anyone is shot and never any bullet holes in the clothes. The dying hero always manages to hang on just long enough for his lady love to cradle his head in her lap, her warm wet vagina so close as he explains the plot and how to vanquish the bad guys before he gives a slight hiccup and genteelly turns his head to the side in death.
Film world is also warmer because even when the actors are at the North Pole or in sub-freezing blizzards, there's never any cold cloud of breath coming from their warm mouths or nostrils.
Reel world is nicer as well: curmudgeons become soft and emotional, problems resolve themselves in simplified story arcs, bad guys repent, true love is revealed, financial problems are resolved, lottery tickets win, and we all live happily ever after in spite of the dark nastiness that enveloped us for the first 90 minutes of plot.
I wanna live in movie world, I wanna be a celluloid creature.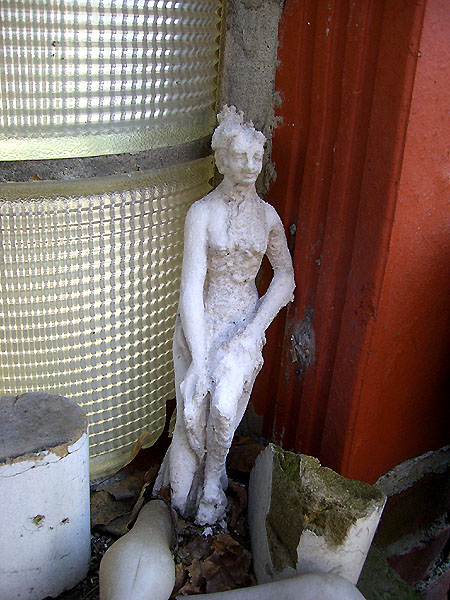 Hollywould – foto by son Smith