Nulvoid
, 1995, 6″ x 9″, by Steven B. Smith – foto by Smith
I've reworking our letter of inquiry to potential literary agents in an attempt to get our book started down the publishing chute. Here's my latest opening line. What do you think, would this catch your eye:
"Criminal – My Life & Crimes 1946-2006 by Smith & Lady: a true story of armed robbery, stolen cars, alternative art, mainstream poetry, underground publishing, robbing the cradle, and leaving the country."
The previous first line I had in the letter that a good 40 literary agents ignored or rejected was:
"I ran run from the cops ten times, got away nine; stole 13 cars when 14, spent nine days in jail; was part of the largest group ever kicked out of the U.S. Naval Academy for marijuana in 1968; committed two armed robberies, spent a year in jail; am a poor boy from the west who ended up in the Society Register in the east."
Now that I reread that sentence, I wince at its awkwardness. I tried to get too much info into too small a space.
This publishing process is so frustrating. First, I have an outsider/outlaw story life that violates most establishment folks sensibilities, and they're in charge of the process. Second, I am a total unknown outside of being semi-famous in my own small neighborhood. Third, the economic times are so bad that two publishing houses are no longer publishing anything at all (just trying to survive instead off their catalog of past successes) while the rest are seriously cutting back.
I think anyone who has read Jack Kerouac or William Burroughs novels or Albert Camus' essays or listened to Lenny Bruce would be a natural audience for our memoir of my life. On The Road is a so-so written story of a sad and shallow group of people hitch-hiking across country for a few summers while my story is 60 years of outsider life, crimes, drugs, art, poetry, philosophy – all told honestly with humor and NO excuses.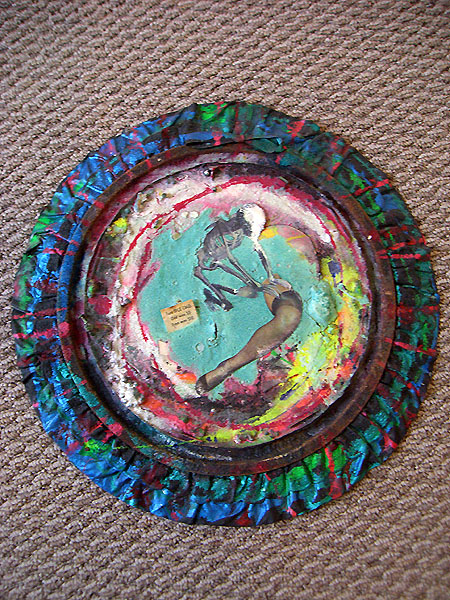 Caged Dice
, 1997, 18″ x 18″, by Steven B. Smith – foto by Smith