Moon Blood
by Steven B. Smith, 1993, 13 inches – foto by Smith
Until I can figure how to blog the mental and emotional black hole I'm in without disrespecting others, I'm going to cheat and each day show a couple pieces of my artwork I've made over the past 45 years.
I'm in a process of re-seeing this art because it's been in storage for the past three years of our travel outside the U.S.A., and I'm meeting it with new eyes. Fortunately for me, I like what I see.
Above is Moon Blood, 13 inches by 13 inches, from 1993. It's one of the pieces of mine Mother Dwarf cherished up until she died. Moon Blood is what I call menstrual blood.
The green and blue are from my liquid copper corrosion mixture. The rust is the salt from the copper corrosion acting on the metal pan I used as back drop, and the white is the salt oxidizing pot metals. Sometimes the cheaper pot metals will oxidize yellow orange as well from the sulfur.
detail of
Moon Blood
by Steven B. Smith, 1993, 13 inches – foto by Smith
And below is another moon piece – the moon here being a used coffee filter with coffee grounds left on it and then covered by my liquid copper corrosion. This one is titled The Validity of Relationships after my poem of the same name.
The Validity of Relationships
Full moon
Dead
Moonlight drips
Drips down
Moistening
Dead realities
Dead reality
Dripping down
Motioning
Dead
Dead
Realities
Dread realty
The moon is moist in Autumn
Great, rotund.
The piece is 15″ x 17″ and is from 1987. I like making my moons blue due to Blue Moon, the 1934 Rodgers & Hart song covered by Elvis Presley in 1956 and remade as a rambunctious doo-wop song by The Marcels in 1961.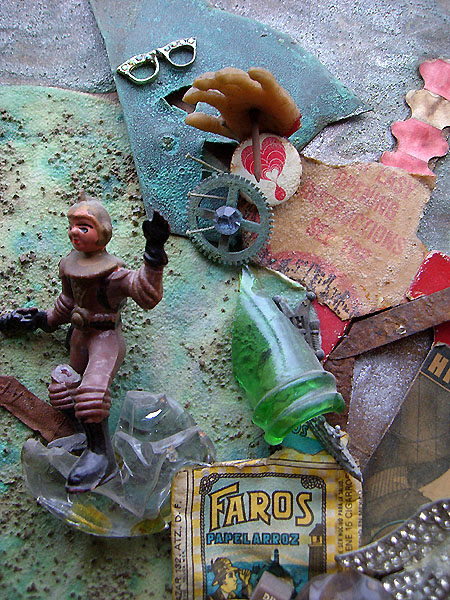 The Validity of Relationships
, 1987, 15″ x 17″ – foto by Smith