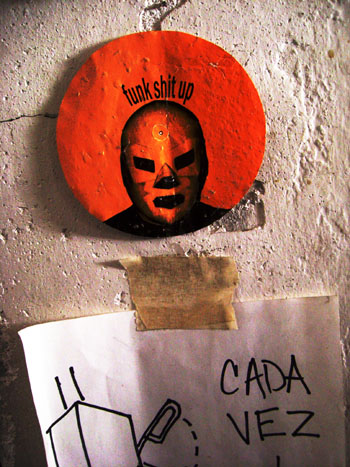 foto by smith
Dubito, ergo cogito, ergo sum (Latin: "I doubt, therefore I think, therefore I am") – Descartes
if doubt leads to thought leads to me, then i must indeed be, because doubt's my redoubt. i begin in enigma and end in ambiguity.
Time is big. I am
small, and but shank and shadow.
Yet no me no Time.
on the map, they label the mountain the city starts climbing to the north the "uninhabited zone." perhaps that is where i should be, where i will finally find my people – the lost whisper tribe.
of course, it's not really uninhabited. there's all sorts of indigenous folk living in and on the mountains, but indigenous people don't count around here to the government unless they protest, or revolt. as gringo tourists, we get Do Pass Go Collect $200 Get Out Of Jail Free cards – unless we specifically piss someone off, then we disappear.
walking in the sun xmas morning, we passed under a pomegranate tree. it reminded me when lady started courting me, she left me a plate of sliced mangoes topped with pomegranate seeds. this was back when i was telling her i could not love her because i no longer believed in love. so as soon as i saw the wet deep yellow slimish slices splotched with purplish red moist seeds in the fridge, i said "aha, a love spell," and dumped it down the toilet. didn't do me any good though, i fell anyway. powerful potion portion pomegranate mango.
i was right to suspect spells – we were married by a Wiccan. wrote this about it:
Get Me To The Witch On Time
I'm smitten
with the kitten
who scratched
my inner itchin
tied me to
the loving post
arranged
free range
to ring
with me
I'm Wiccan wed
and wonder fed
I better butter be
married 2006.18.3
i have doubts about our global future, capitalism, politicians, myself – but two things i doubt not are lady's love, and our companionability. living life with lady is the stuff of cinema.
speaking of, the morning after our first night, after she'd left, i read this poem of hers in a book i had. found it encouraging then, true now.
Life Is Not Cinema
Life is not cinema, but if it were–
were I cast as the lead actress in your movie–
I'd give you the moon and the stars,
I'd find shelter in your arms,
and we would eat popcorn
as the closing credits roll by the top of the sky.
– by Lady K
(Note from Lady: "I'm honored to read these little love notes on your blog.")
foto by smith