Out at the In-laws 11
Moving with the wind driving under sun
heading east for a Memorial Day feast
of fresh-cut fresh-cooked French fries
and yard-grilled yard grown asparagus shared
amid ma-in-law's despair of spargus regrowth,
with veggies and hummus,
sitting in sun splash,
shadow shake shifts around
as hummingbirds swoop and sweep
in court and sugar syrup eat.
We plant six stalks of milkweed
down by the pond for butterflies and bees,
dirt on my hands,
frog burp,
bird tweet,
airplane drone,
tadpole chance under sunwater dance.
We kiss in the pantry,
recharge cling
as they start the propane thang.
Pa-law states three laws of thermodynamics:
You can't win.
You can't break even.
You must play.
Talk of Peeble People,
Serpent mounds,
giftshops selling Almond Mounds.
On deck out back
train moan rumble rolling down track
clickety clack goodbye tract
invisible behind leaves of fact.
"Look, a beauty bush."
"Is that what you popped off of?"
"Oh you sweet talker you."
Telling Miles the large brown Lab dog
"I have no food to offer you, only affection"
when Lady says
"You sound like King Arthur."
"Huh?"
"That's what he told Mordred, his bastard son,
I can't give you anything but love."
"Miles is getting old, will die soon."
"No! Paint a picture of him, let it age instead."
"Ahhh, the Picture of Mordred Brown."
Filling bird seed feed
touch maybe poison ivy.
"My hand was tingling for awhile
but nothing shows so I'm okay," I say.
"Oh no," ma-law replies,
"it takes 24 hours, up to a week for it to show,
then just gets worse and worse."
"Thank you so much for that reassurance."
Poison ivy lore:
Leaves of three, let it be.
Hairy vine, no friend of mine.
Berries white, danger in sight.
Longer middle stem, stay away from them.
Red leaflets in the spring, it's a dangerous thing.
If butterflies land there, don't put your hand there.
Side leaflets like mittens, will itch like the dickens.
Cardinals in the tree going
"witcha witcha witcha" in a minute.
Bees surround the butterfly bush,
butterfly leaves bouncing by.
"Honey never spoils,
you can eat it after thousands of years."
"Maybe that's what the Bible means
with honey in the rock."
"Great 1950's Sun Ra tune
Honey in the bee box, honey in the bee box,
honey, honey."
A toad in hand is worth a wait in bush.
Accent and uncles
and rumors of ice cream.
Heading home I sneeze into the sunset.
"Hashish."
"Gesundheit."
"Going back is a mile less than coming out."
"Wonder what they do with that extra mile,
store it someplace in between?"
Smashing spoze.
– Smith, 5.27.2014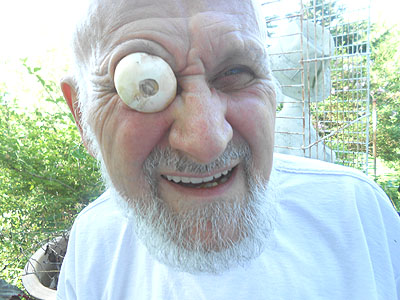 bottom foto by Lady